Saturday, September 14, 2013
w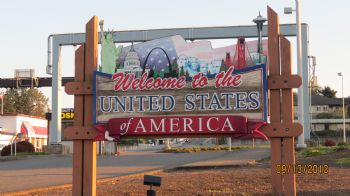 Road Trip - shopping - Geo caching enjoying life the best we can!
I have been looking forward to this all week - NO - the last two weeks. I have a weekend off.
The only problem with that is I know we will spend money - but that is OK - we have worked hard and long hours . My desire was to stay around home and go kayaking - we do have a free kayaking tour adventure that I want to use before the rains come and it is to wet and cold, however Noni wanted to come to the USA. It is not that I didn`t want too - it was just the fact that it was so very hot and on a Friday late afternoon I knew there would be a long line at the border to wait at. Well it was hot and we waited for one hour and thirty minutes at the border crossing.
Left camp around two - dropped off Dalhouise at our friends - stopped off to get coffee for the road and one for Mom - stop in her place handed her a coffee and a croissant that Noni had made from scratch and told her will see her on Sunday. By three o'clock we were heading south on our way..
Oh the traffic in and around Vancouver - bumper to bumper - in and out cutting me off when I was just a little to far from the car in front
Thankfully no issues at the border - all our paper work and Noni`s visa was in order - and I had a hotel booked and knew exactly where I was going and what we planned to do so when the custom officers asked many questions I answered all quickly indication my preparedness.
We made one quick pitt stop right after the border then following the car GPS drove to Bellingham and headed to the hotel. I was hungry - and one of the main reasons she wanted to come was to eat at her favorite Mexican restaurant. After the turn off of the main highway I knew that we were close so we found our way to Mi Mexico Restaurant on Telegraph RD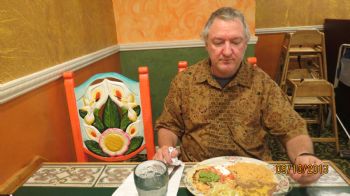 It was so delicious and many local Mexican were eating there - which I would say is a good indication of good authentic food
I am so full - so much for wait loss - Noni wanted to walk but it was dark and many stores were not open now - and so we went straight to the hotel.
Checked in and since we were so full decided to go for a swim in the heated outdoor pool that is just out side our room.
Nine PM- I was standing with my feet in the water about to jump into the refreshing goodness of life.