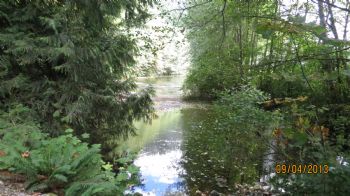 When I was checking my emails yesterday I was surprised to see a notice of a new cache placed within my home area - even more surprised today to see that three more were posted today. This first cache I figured would be found quick so I gave up any hope to to be the first to find - but I was wrong - today I recorded FTF in the log book and web sight. The CO of this cache must be happy - I found it - I dropped a TB that I had picked up in Victoria - I took and posted a couple of pictures and I gave it a favorite point.
Why did I give it a favorite point you ask?? The container was a ammo box - not many of these in Squamish - the hike to the cache is pretty good - the drive to the area is amazing - and the cache was near a tributary with many splashing salmon as they spawn.
Spawning season a perfect time to go seek this cache which has it's trail head at the fish hatchery -- I haven't been to a fish hatchery since I was in public school many - many years ago - I still remember the field trip. So today I double dipped my purpose - once again I did not tell Noni about the hatchery - just that we were going for a hike looking for a Geo cache.. She has been to a hatchery of some sort in Indonesia not the same as we were at today - I love making all these good memories with her....
Poor Dalhouise was stuck in the car when we explored the hatchery tanks- but after this we took him out to walk down to the creek where he went for a little swim again with the fish - he is such a curious dog - goes right into the creek but when we tell him it is time for a shower he growls and goes and tries to hide from us... go figure..
Side note - when we walked down to the river three young ladies came about the same time as we did - we were all watching the fish and Dalhouise together- then Noni and I went a little distance away. I came back to get more pictures at this location as it was the best spot with so many salmon splashing and spawning -- but decided not too - afraid Noni might get angry - one of the girls took her pants off and was wading into the stream wearing just thong undies - nice bum - but like I said I didn't want Noni angry with me :) so I left... why couldn't I find young ladies like this 30 years ago when I was out wandering trails and creeks....