Thursday, April 25, 2013
Four hours of hiking - 650metres climbing an elevations up of a distance 7-12 km to find a geo cache. Noni and I went with the staff - there would be no way I would attempt to do this alone. I am so proud of my wife to do this. Walking up I could barely catch my breath - but my body was strong. My left leg even was working normal for the first time since the accident. I always push off with my right leg - yes my left leg can hold my weight - but up to this day it has not only held my weigh but carried my body lifting me up - and I mean up as we climbed.
Climbing I was panting - and grasping for breath on the way down my thigh muscles and knees were burning beyond belief.
I must mention that I wanted to hike this last year but never got a chance to - a good thing too because I was much heavier and more out of shape than now. This was all before I even thought about geo caching. I want to hike as many of the local trails I possibly can. Now with geo caching I have a double purpose - and I am slowly crossing off my list of trails. The other thing I have noticed is that my body is recovering so fast. Both when we stopped for a breather - at lunch break and when we ended the hike I can still move - my body is not so stiff and I still got energy to do a little more --a good thing too as I had to cook supper on our return. - That will be tomorrow blog -- chaos in the kitchen area.....
-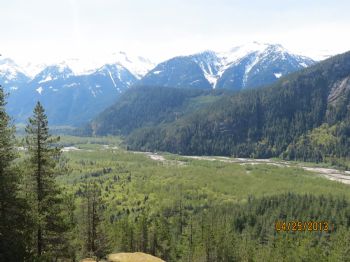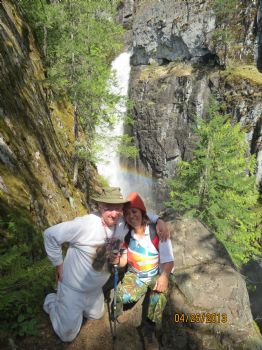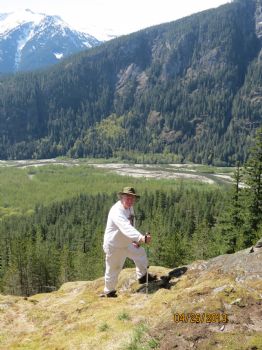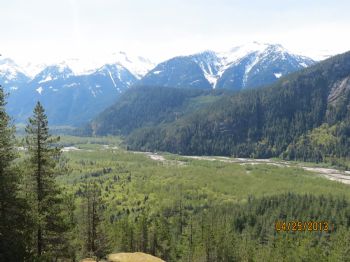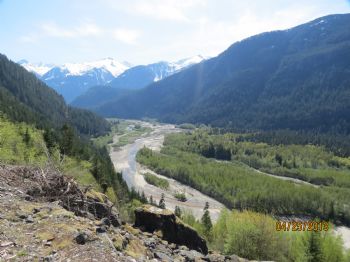 This trail is one of the most scenic hikes between Squamish and whistler. from this trail are superb view of the Squamish river valley and the Tantalus range as well as of the High Falls themselves.
This is not a hike for everyone as at times it runs very close to cliff edge of an extremely steep canyon - a simple slip could lead to a deadly fall.
So this is not an average day of a camp chef- but it was a good day.