After a breakfast of Waffles with bacon and sausage - yogurt, fruit salad the Pinnacle repair man shows up. Exhaust hood has a new belt -- what a difference - what a draw - sucked all the heat out of the kitchen. This will be such a blessing once the season becomes stifling hot.
Sink - that was a head ache -however I have running hot and cold water - I have drainage. The drains are a little slow - will have the maintenance man work on that next week - but they drain. Taps need to be replaced - but today it was braised closed where the ice broke them. The repair person didn't know that the taps themselves were cracked other wise he would had brought with him the replacement he thought just the joint at the wall was broken from the winter freeze. We are 30 minutes from town then another 45 minutes to the city - so going to the store is not so a quick fix. The walk in cooler was topped up with freon so it is all set to go. The 30qt mixer was greased - all is well.
Progress.. I cleaned the second convention oven - yesterday I cleaned the first one. The kitchen has two conventions and two regular propane ovens.
The floor - well before the day was done I did give it a once over - it will need more loving care yet - but at least I removed the first layer of gunge.
So while the kitchen was being repaired I made a Split pea soup for lunch and served the left over Perogies, Swiss steak and grilled Talipia and made a fresh toss salad.
Supper - I cooked Spaghetti and made a meat sauce and more toss salad.
Now I am officially off for the weekend. We have to serve snack Sunday night to the new staff that are arriving Sunday afternoon. I do not have to cook Sunday supper - they are all stopping at the local pub/ restaurant in Squamish for supper before they move into camp. I understand most of the staff are flying into Vancouver international airport and are being picked up at 2pm by the camp bus. Any local staff that are driving to camp have been instructed to meet at the restaurant.
So I am officially off - I will go into the kitchen tomorrow and do another mopping and more cleaning.
Most likely the maintenance man will replaced the hood vents tomorrow also even though he is off also - if not he will do that Monday. They have been soaking in a degrease ing solution most the day and then sprayed with the pressure washer - but not yet finished.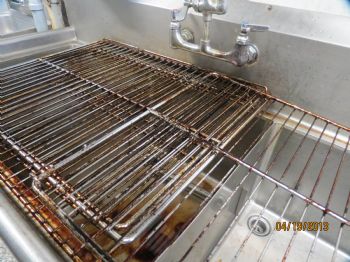 racks from convection oven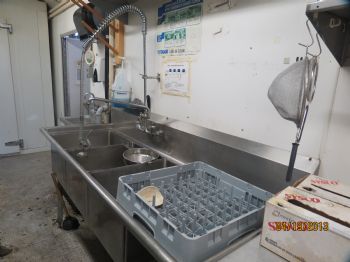 sinks put back together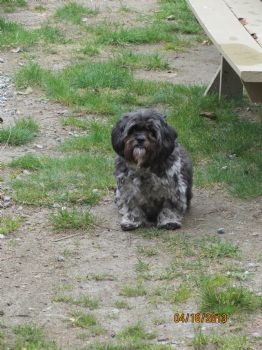 ready for inspection from top Dog