Now that I am back home, time to reflect and share.
I wish I were a better writer that could woo you and capture your imagination as you read - but I am not but I will do my best to make it not so boring.
I am going to start by briefly telling you of a man I met from Amsterdam who is cycling around the world. He has already cycled in Russia - China - Indonesia and many other counties as well but these are the ones standing out in my mind. I met him at the Oregon / California border. He was taking a picture at the sign when I also pulled over to take a picture and to find a Geo cache.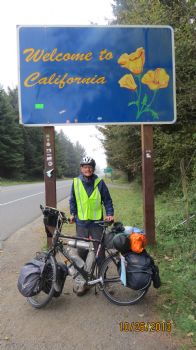 After talking with him I forgot all about searching for the two nearby caches and drove off.
When I was younger I had always dreamed about cycling across Canada and into the United States. That dream died the older I became.. but look at that man - he is not young - is it still possible for me? Well Noni enjoys cycling but not that much.. and I have pins holding my left knee together so I think Not!
As we drove past many bikes loaded with side bags and brightly colored vests I kept thinking I could do this.I wish I could stop and get out to talk to them all and offer them a bottle of water. Once when I was in Cyprus I did just that - I past a man who was on a very large incline -- I drove by - I stopped at a store at the top - bought ice cream and turned around and gave it to him with some cold water. He was so happy.
So this could be Noni and my bike some day - doing a shorter tour.