Saturday, May 18, 2013
Another day and another dollar - Well from feeding 120 people down to 42 feels like a holiday. I even managed to drive into town and did some banking - visit my mother and stop and buy coffees and go to the drug store. My left knee has been causing extreme pain and I was out of medicine.
Six years ago was the last time this group that is here now was at camp. It was the year before I was hired. I understand the kitchen did not run so smoothly and the food was not so good. The owner actually had to fire the kitchen people of that time. But that was then and today is now. I have talked with the leaders of this group - asking about the food of the camps they have been visiting - lots of process food and definitely not my salad bar option at lunch. They are so pleased and are giving lots of praise so far. So I have placed my self under this stress/ anxiety to make sure that the food is so good they will want to keep coming back to my camp.
I have fed them roast beef -scallop potatoes - cheese omelets - BLT - Lasagna so far not to mention potato soup - French Pea Soup - cookies - haystacks - red velvet cake and tonight nacho's for a snack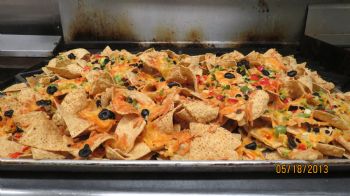 So on my way back to the kitchen to cook the evening snack -