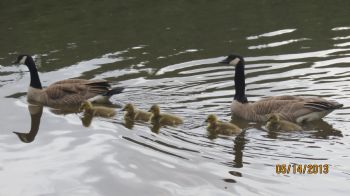 Went for a evening walk at Alice Lake to check on a new geo cache that I have adopted. While there I checked on another cache I had placed a couple of months ago next to the lake and I was greeted by this family. This is a great place to unwind a bit from the week of stress.
Today one of the girls came back to camp to collect her belongings that she had left behind. It was good to see her - got a hug and a chance to say goodbye - creating some closer to this grief that has befallen the kitchen.
This morning had a rough start to the day - had a little tiff with the camp director - we are all under a lot of stress and extra work loads because we are short staff all over camp and the remaining staff have to do the extra kitchen work. Anyways afterwards I was thinking that my two girls not only helped me get the work done but they also kept me calm. With my involvement in their lives seemed to keep me more hospitable and flexible with the other pressures of running the kitchen and dealing with the other staff. I really enjoyed having them around - no wonder I miss them so much. Interesting observation....
So it is the weekend - well not for Noni and I this group of 15 tables of 8 left and a group of 42 people arrived to take its place. They are here all this long weekend. then on Tuesday another school arrives. I do not know when I will get a full day off... I will take what ever time I can to relax when I can.