Thursday, June 06, 2013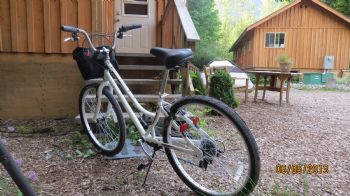 Once again I have wheels. Remember just before I came to camp someone had stole my bike. They cut four different locks to get it, taking my expensive bike and leaving my wife's less expensive one. So Noni goes for a bike ride alone - but not any longer. I did not want to buy another expensive one - just something that we can go for a ride together around town or around camp. We will go into Vancouver eventually to ride the Stanley Park Seawall.
This bike has six gears compared to the 18 I had before. I had looked at several but choose this both because of price and comfort. I like the handle bars up in the air so I am not hunched over while riding.
Reminds me on the bike I had as a child with the large handlebars and banana seat. I am reverting into a child again!!!