Wednesday, June 05, 2013
Such a sweet jester - one of our guess this morning brought me a flower with a ribbon attached to it. She was so sweet. This is one of the reasons why I do what I do.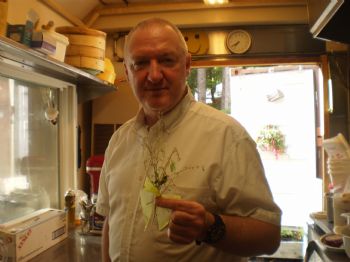 Well I have been told that Monday I will have a young lad who is the younger brother of a program staff starting to work. His sister is a very friendly person and hard working - actually she is holding down two jobs - this camp one which is like three jobs in one and she goes on the weekends to work in the local store between four am and ten. Such work ethic from a young person. She is a fireball of energy - so if her brother is similar it might just be a good thing.
Some male kitchen help are super good - others well -- useless comes to mind. I personally would rather work with females - it's going to be a long season. But nevertheless - he has been hired to give him a try, and if he is like his sister he will be a good worker.
But if he is not...