Friday, May 31, 2013
Noni has made Boston cream cupcakes. Earlier today I went into town to deposit our pay cheques, get a much needed haircut , visit Mom - water the plants at the condo, go to the nursery to buy a couple of plants for my little container garden and a hanging plant to place by the kitchen door so that whenever I look outside I can see it. Stopped at a Tim Horton's coffee shop for a coffee and I wanted to buy a Boston cream doughnut - but my wife said NO she didn't want one. We have at camp!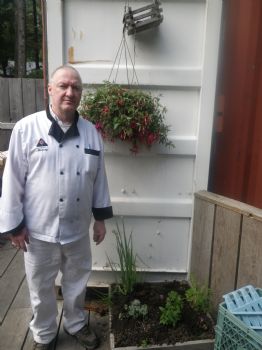 So there I am with my new snazzy hair cut - shaved to a number three clipper..
So the weekend group has arrived. Twenty one guess - the kids are so sweet. The staff that are working this weekend are still not here they a -re on route... they were off sight for this last week working another program - IT WAS A GOOD WEEK - . Most of the staff have left the camp leaving only a couple to cover till the weekend staff arrive. So supper went well with three gluten free and six vegetarians.
I fed samosa for the vegetarian meal and chicken - rice - corn to the rest.
Cookies for snack later.
Oh yea when I was at the condo I collected the mail - TAX time - oh Joy!! So back down town I went to the Municipal office and paid my 2013 property tax. So much for a pay cheque.