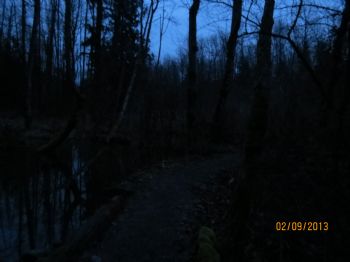 Good morning. I was up and out the door by 6:50. There was no hesitating today. I knew I was going out and I knew where I was headed. Even Dalhouise has learned to stay in bed just like when I go to work. He will not get out of bed until 10 am when I come back to the cabin to let him go out to play. The trail was dark - I took a picture just to prove it.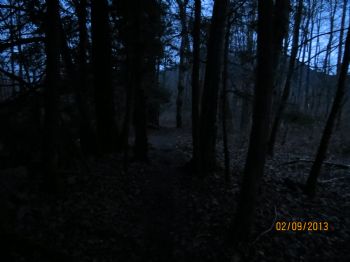 I am following the Manquam River then along the Squamish River. I am also following a little stream on my right hand side when I noticed these two Tundra Swans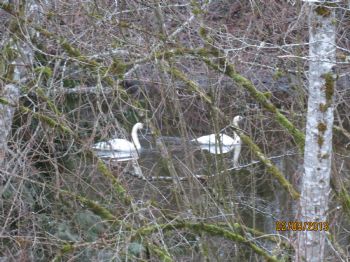 . Last November I seen the one - this is the first time I have seen two. I am also bombarded with bird song and if I am not mistaken I hear the call of the Red Whig Blackbird. Truly spring has sprung here in Squamish.
I keep walking - I am going to go knock on my pastors door to say good morning and then head home. I approached his house - there are lights on - I knock on the door . He answers - wants to know what I want - Nothing - just saying good morning - which I said and then said good by and walked off. Next on my way home is another friend so I wrap on his door too - his wife answers very surprised when she finds out I had walked all this way. Her husband is still sleeping - they had a late night I was told. In the past he has told me they are always up early - ah - not always. I give the same speech that I was just stopping in to say hello - good morning - and I left for the final jaunt home. I arrive home 9:05 and there is no Dalhouise and no wife. They are gone on their own little walk up into the highlands I find out when they do arrive back.
Anways here is a few pictures of my predawn - dawn stroll.