Yesterday the sun did come out in the late afternoon. That was all I needed - I was back out the door for three hours. Half an hour was spent with my friend who met me at Nexen Beach and we power walked the two mile route. Then he went back home and I went geocaching at The Chief and one other spot.
I found three more caches - I am so happy. The one I couldn't find last week - well I came to it from a different route - but the GPS brought me back to the same area - but this time it did not read ground zero - actually it never did - but climbed a few feet higher to the edge of a huge boulder in the direction of my arrow on the GPS. OK the hint was a lone tree - I past what could be considered a lone tree in the forest - now there was a log at my feet - OK second hint and for the third hint bring some one short -- so bending very low and looking into a crevice I move another small log and there it was.
Steps - the following picture probably will not show the steepness nor the amount but it is no wonder I managed to get over 15 000 steps in today. I walked up these steps hoping to find a cache. - No success I turned around because the day was ending and I did not want to be out in the dark. Besides I was getting very hungry. However it was not a waste - beautiful - just a beautiful area. Will come back here on another sunny day.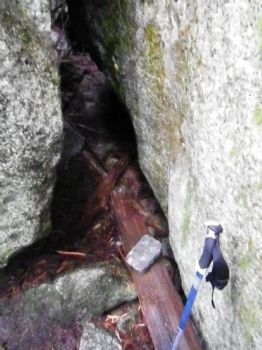 cache site