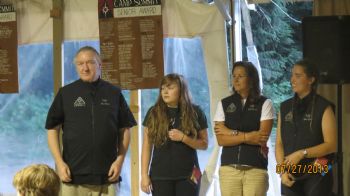 I was rewarded with an Arc teryx vest for being part of the camp team for five years.
I thought I might get a plaque for the wall - was so surprise to get this.
There are six of us that started at the same time back 2008. And I must say I enjoy these friends they are good people.
So I am off for three days - but not fully - I have to plan and carry out my food order to arrive the first day back so I have food to feed the 160 people that are arriving for lunch. So I will do that later - call in the order - go back to work on Thursday and wait for the delivery. It will be large as stock is very - VERY low.
Well the one dishwasher who quit has left the camp now. The one young lad has told the owner he will stay till the end of August. The new older lady - well she has a positive attitude and gets the job done - but needs constant supervision - did not expect that..
Anyways I am in the Condo right now enjoying high speed internet service :) trying to decide what Noni and I will do for our three days off.
- replace a geo cache that was slimy
- deposit pay cheques
- go to Vancouver and eat Dim Sum
-Geo cache
- at some point I want to do kayaking
and Rest.