I have much more to say about my Saturday OFF - spending the time at Dr. Sun Yat-Sen Classical Chinese Garden was only one of the highlights of the day.
First thing in the morning we took Dalhouise to the Fisherman's Warf in Squamsih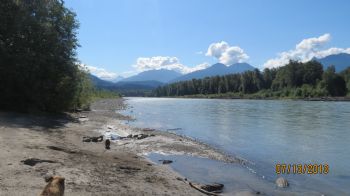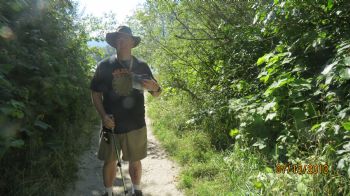 Yes I found it!
So Dalhouise is happy -he has had a run - a poop - a swim so it was time to go home. Before we took him back inside Noni wanted me to hose him down because he was smelly - so I did - then we had to walk around our condo. We have some very nice gardens on location..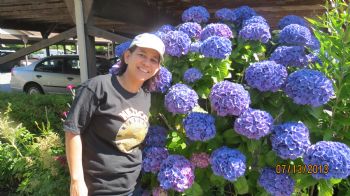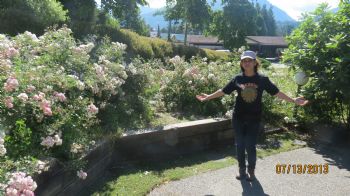 Dalhouise is now dry and smelling a little better so we take him up stairs and leave him home as we head to Vancouver.
First stop was at the Chinese Garden to find my second cache of the day, Yin and Yang.
This cache is in the free park, not the garden where there is an admission fee. Bring a pen.
May 1 - June 14 9:30AM - 5:30PM June 15 - Aug 31 9AM - 6:30PM September 9:30AM - 5:30PM
Oct 1 - Apr 30 9:30AM - 4PM
Harmony of four main elements: rock, water, plants, and architecture. Together, these four elements combine to create a breathtaking experience of perfect balance, yin and yang. Located in the heart of busy Chinatown, Sun Yat-Sen Park is like another world. Filled with unique rock forms, a waterlily-covered pond, a pagoda, and lush plantings, the park has the ability to create a feeling of peace and tranquility in those who visit. Admission to this park is free. Check the garden open hours to avoid disappointment. No need to leave the path. You should be able to make the grab from the path to prevent disturbing any flora. Please leave no trace. The gardens are an oasis in the downtown east side. This is one of Vancouver's poorest neighbourhoods so has many of the problems that come with that.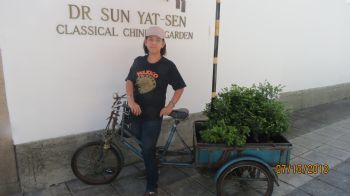 (read my last posting about this fantastic place)
From here at the Garden where I parked the car I had two more caches to find. So for the rest of the day we would be doing some walking. The garden cache was in the middle of the two. First we headed down town to the armories to seek a cache.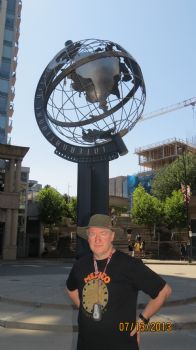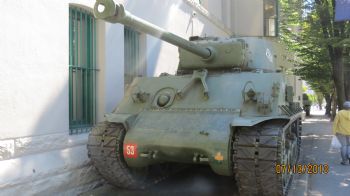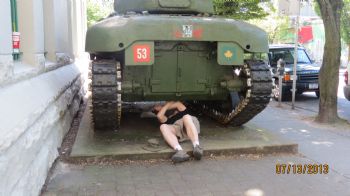 me searching for the cache.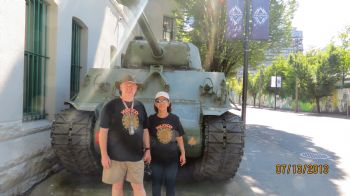 Togetherness
So yes I found it - more Joy - and today was Geo - caching earth day and so I earned a virtual souvenir on my Geo caching home page.
But wait I am not finished yet there is yet another cache I want to seek and find. So back towards the car and the garden we walk.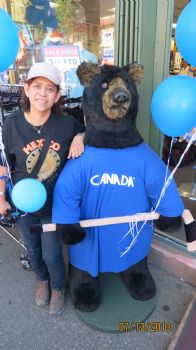 Walk on by the gardens to the Jimi Hendrix Museum and Shrine
"The museum has some very interesting information and one of the student guides would be happy to tell you about how Jimi's Mom restaurant was the go-to spot when the big name blues players wanted some down home fried chicken after a big gig in other parts of Vancouver.
This heritage building used to be a Vie's Chicken Inn where Norah Hendrix, the grandmother of Jimi Hendrix, cooked for many years. Jimi used to play music there. The neighborhood was also the only black neighborhood in Vancouver.
THE MUSEUM IS FREE
Open from June to September from 1:00pm to 5:00pm Monday – Saturday.
This is one of Vancouver hidden wearied destinations and will put a smile on your face for the rest of the day. Enjoy."
I could not go in - there was too much incense burning and I am very allergic --- to make matters worse I did find the cache but could not get it opened to sign the log book - but I claimed it as a found regardless.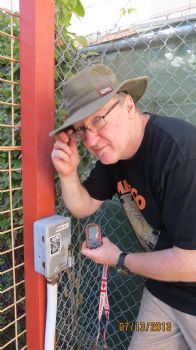 So now it was time to return to Squamish - thus ends my Saturday.