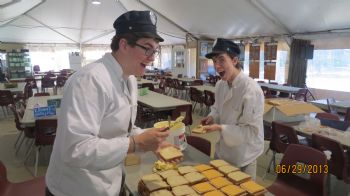 Welcome to camp - right away I had the boys making grill cheese sandwiches - a good bonding time for the two of them. They had began this process not wearing the white chef jackets or hats. I was busy in side the kitchen and when I took a peak out to see how they were doing, I just had to go go get my camera and take a picture. Comical or what??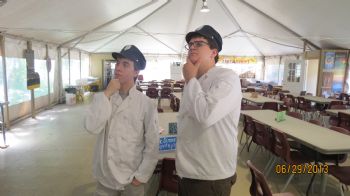 Fun and games are all good as long as the work is being done and finished well - lets just see how the days go by.
And that was day One.. On day Two it was time to teach the boys how to make Bread loafs. Noni and I made the actual bread and took the heavy dough out for them to weigh and form into 0ne pound loaves. Easy no problem -- well a few moments after I had turned my back Noni was at their side showing them how to do it properly -- some of the loaves that they had placed in the an were shaped like a bun - others had the crease on the top - some were not weighed out to the pound weight and so the dough in the pan pan did not go from edge to edge. So she went out and showed how to roll - tighten up the seems - placement in the pans and to make sure the scale doesn't move -using an old dial type of scale where the spindle turns after so many on and offs of dough handling.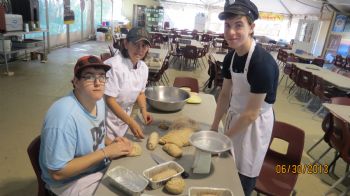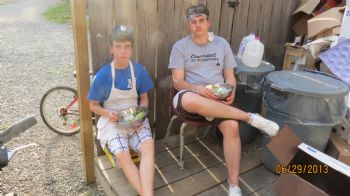 Hungry and tired so having a bite to eat. Kitchen lunch room - isn't that